Common Crawl Space Problems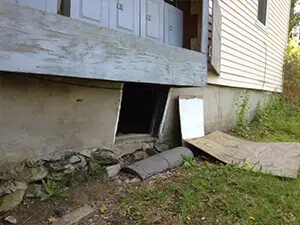 The crawl space is an area below your home that will generally house some of your HVAC and plumbing items. This area is usually vented to the outside and was built with a dirt floor. Ark Foundation Repair specializes in sealing this area below your home from the elements and closing it off from the outside. This will help prevent any unnecessary moisture from rotting your wood floor supports away and keep the area dry and clean. If your floors are showing signs of sagging or you notice bad smells in your home, it may be time to contact our professionals. We use products that are proven to work and tested in the field.
Some common crawl space problems include:
High Humidity
Standing Water
Critters
Sagging Floor Joists
We provide crawl space repair services in the following cities: Lansing, Battle Creek, Jackson, St. Johns, Coldwater, Adrian, Monroe, Brighton, Portland, Charlotte, Mason, Marshall, Clarklake, Dundee, Milan, Whitmore Lake, Howell, and in other nearby Michigan communities.
If you have any questions about our products or would like to set up a free estimate for repairs or encapsulation, fill out our contact form today.
Mark, please accept this note to say thank you for such a great job & great service! I couldn't envision what you had planned. It turned out much better than we could have expected. You were well prepared, well equipped & very skilled at what you do. You & the crew did an awesome job!!
…
You definitely made the extra effort to make sure that everything worked out the way that I wanted it. I really appreciate this. You did a fantastic job!! Thank you so very much. You will definitely be recommended!
Tracey – Fowlerville, MI 48836
Mark, Trace and the crew are wonderful, professional and caring. They waterproofed my basement and did a great job. I now can put carpet in my basement and be confident the basement will be dry.
Kim St. – East Lansing, MI 48823
Cities We Serve in michigan