Bowed Wall Repair Products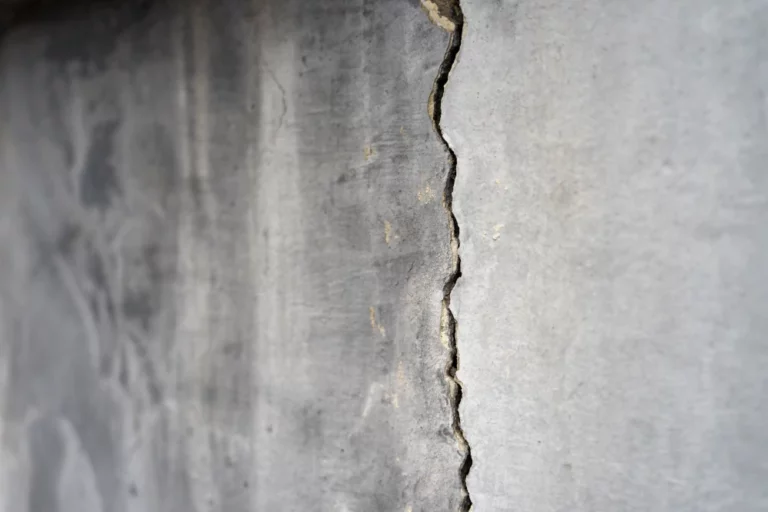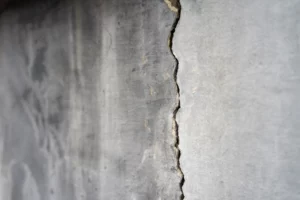 Ark Foundation Repair provides expert bowed wall repair services. If you have basement walls that are leaning into your home or starting to buckle, you need to get them taken care of before the structural problem worsens. We realize how scary it can be to see a tilting wall inside your home, and if you leave it neglected for too long, it could actually collapse in! To take care of this foundation problem, we can install wall anchors, wall plates, and we can connect them with a strong steel rod that can be tightened over time to give them the lateral pressure they need to straighten them back into an upright position.
The following could be warning signs that could indicate that you have a bowing wall problem at your Michigan home:
Visible wall cracks
Cracks in concrete, brick, or drywall
Bowing walls in basement areas
Visible water damage
Doors or windows that stick or don't open properly
Any of these problems might jeopardize the integrity of the entire structure if not corrected.
We offer bowed wall repair services in the following locations: Lansing, Battle Creek, Jackson, St. Johns, Coldwater, Adrian, Monroe, Brighton, Portland, Charlotte, Mason, Marshall, Clarklake, Dundee, Milan, Whitmore Lake, Howell, and in other nearby Michigan communities.
Having an inspection done on your foundation will help you to understand the issues that all foundations have to contend with. Things like wall cracks demand a trained eye to determine the best repair method. Our project mangers will help to assess and diagnose the cause and recommend the best possible solution.
Wall Anchor Installation

Wall anchors are one of most cost effective foundation repair systems. You can permanently stabilize basement and retaining walls with wall anchors. These systems offer the best opportunity to straighten walls over time without the cost and disruption of foundation replacement.
You can see that the basement wall has moved in about 1 1/2 inches in the photo to the left. The sidewalk is a good guide line to look at. At the corner of the house, it touches but not in the middle down by the steps. You can also see that the sidewalk is tilted into the house, causing even more of a water problem.
If you have noticed your basement walls are cracking, bowing, leaning or pushing inward, you have what is often known as (hydrostatic pressure) a serious foundation problem that needs to be addressed right away.
Our business can save you thousands of dollars. We have been in business for a long time and have seen what the big companies do to the homeowners (sell you something you don't need). We will give you the straight answers you need. This is something the big companies don't what their sales people to do. It's all about making the big dollars at your expense. I used to work for these companies and morally I could not tolerate how they ripped homeowners off.
Causes of Bowed Walls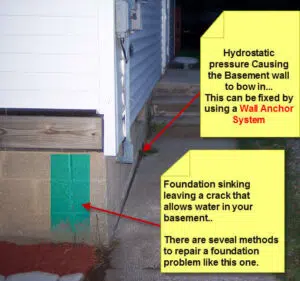 There are many reasons why you may have bowed walls. We would like an opportunity to explain what your conditions are and help you to save thousands. Please use our contact form and we will show you the right way to take care of this problem!
Remember you don't have to disrupt your landscape to fix bowed walls. Here are just some of the reasons to go with this Safe Basements system:
Safe Basements Wall Anchor Advantages:
Can be installed year-round
Fast installation
No major excavation needed
Can straighten your walls (in most cases)
Easy to conceal when finishing your basement
Does not require maintenance
Restores property value
Features a 3 year warranty
Our Wall Anchors vs Traditional Anchors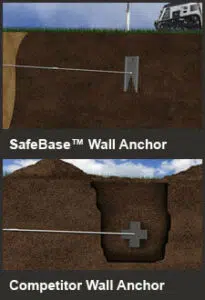 Our wall anchors feature the following:
Quick installation – usually 10 to 20 minutes per each anchor
The earth plate will be installed in stable soils for extra strength
No mess will be left in your yard for you to clean up
The bigger anchor we use means improved holding capacity
The anchors have been through numerous tests to ensure superior quality
Traditional wall anchors feature the following:
Require a lot of excavation – this is going to leave a huge mess in your yard for you to clean up!
A lot of complicated, expensive hardware is needed for installation 
The earth anchor is placed in soft soils, and this isn't going to provide much torque to fix the wall
Long installation time – usually 1 to 2 hours per each anchor
Carbon Fiber Strips
If bowing walls are just starting, we can install a network of carbon fiber strips to add extra strength to your walls and prevent them from bowing any further. The carbon fiber is incredibly strong and once bonded to your walls using an epoxy resin, provide support that is stronger than steel. This can prevent the walls from bowing or buckling any further and can be painted over to be disguised in a finished basement.
Steel I-Beams
In addition to the carbon fiber strips, we can custom build and install steel I-beams that will add extra strength to your walls and prevent them from bowing inward. These beams are installed between the floor and the floor joists and will prevent the basement or foundation wall from buckling.
Contact Us
If you'd like to talk with one of our experts about repairing your bowed basement walls, you can contact us online or call us using one of the numbers above to schedule a free estimate. Remember it never hurts to have more than one estimate when you are doing major repairs to your home. We look forward to working with you.
Average rating for Ark Foundation Repair & Waterproofing is stars of 5 stars – based on 14 reviews
Mark, Trace and the crew are wonderful, professional and caring. They waterproofed my basement and did a great job. I now can put carpet in my basement and be confident
…
Mark, Trace and the crew are wonderful, professional and caring. They waterproofed my basement and did a great job. I now can put carpet in my basement and be confident the basement will be dry.
Kim St. – East Lansing, MI 48823
The guys at Ark Foundation are amazing. I called because water was beginning to seep into the basement. Patrick was quick to come and knew exactly what needed to be
…
The guys at Ark Foundation are amazing. I called because water was beginning to seep into the basement. Patrick was quick to come and knew exactly what needed to be done. I was also shown a couple options so that I could decide how much I felt comfortable spending. I scheduled an appointment but was able to get it done sooner because they reached out to me when an earlier appointment became available. The crew that came were fantastic. The were very polite, professional and communicated with us throughout the process. When the job was complete they made sure everything was clean! I could not have asked for a better experience
Tory – Owosso, MI 48867
Cities We Serve in michigan