Yard Drainage Solutions in Lansing and Central Michigan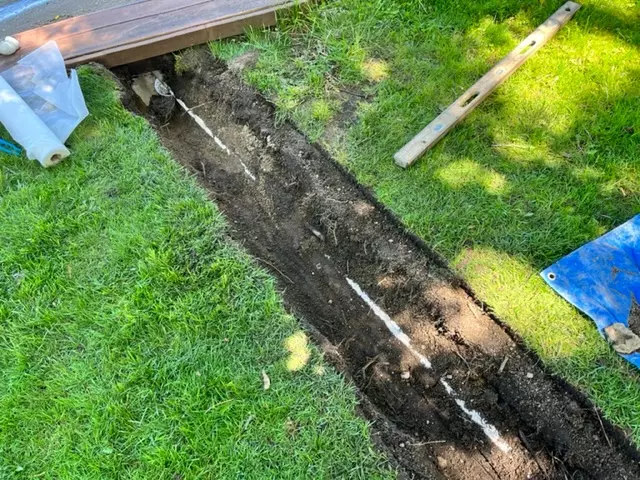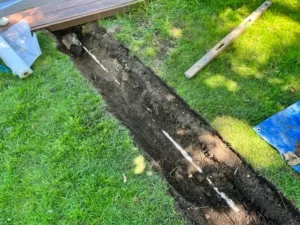 Most of the damage caused to foundations is caused by excess water buildup in the ground around the foundation. Our team knows that the interior drainage systems are expensive, and they aren't the only way to prevent basement leaks and foundation damage.
Yard grading and downspout extensions are one of the best ways to prevent water damage in your home. Our team at Ark Foundation Repair & Waterproofing offers professional yard drainage systems designed to keep water away from your foundation. We have been working with homeowners in Lansing, Battle Creek, Ann Arbor, and other surrounding areas in Central Michigan for over 25 years. Contact our experts today to schedule a free foundation inspection and free quote on yard drainage installation for your home.
How Improper Grading and Poor Downspouts can Lead To A Wet Basement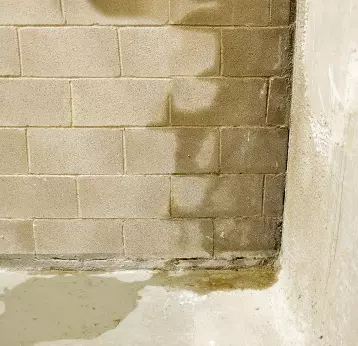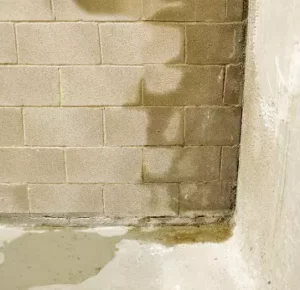 When it is raining, water from your roof enters your gutters and is expelled away from your home. However, if your yard has poor downspout placement and bad grading around the foundation, the water won't be expelled away from your foundation.
When water cannot drain from your yard, it often ends up against the house and saturates the soil around your foundation. This excess groundwater buildup can add weight to the soil causing high hydrostatic pressure and other foundation and waterproofing issues. In addition to this, when your yard has poor grading, water can build up against your foundation and flood over the top of the foundation or through gaps in your window wells.
Our team can install a yard drainage system to help you manage water in your yard and keep water away from your home.
Sections of a cove waterproofing system that was installed 40 years ago had been broken. Mark quickly identified what the system was an gave me a WEB URl where I could order the parts. Really appreciated the help. David Kanistanaux
David K – Lansing, MI 48912
Wow, we are so impressed with this company. I called and they had someone out the next day. Don did a great job with the repairs he made. He was very polite and answered all of our questions. I would definitely recommend this company.
Cindy Blackmar – Howell, MI 48843
How Does Yard Drainage Work?
Yard drainage is a simple concept, prepare your yard in a way that when it rains, water is directed away from your home and does not pool against the foundation. If you are experiencing yard drainage issues, there are two main solutions that can help you solve your waterproofing issues. These are downspout extensions and yard grading.
Downspout Extensions or French Drainage Systems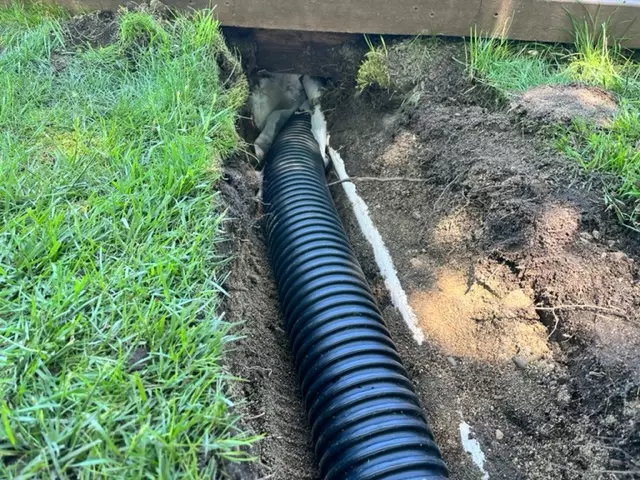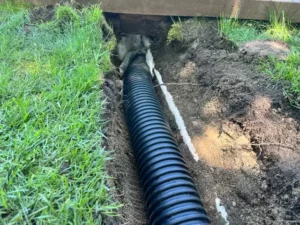 Downspout extensions or French Drains (in-ground drains) consist of a long perforated pipe that is laid at a slight angle throughout your drainage path to a catch basin or drainage pit. The drain system is connected to your downspouts and works to remove water away from your foundation by providing an easy path for it to flow. The perforated pipe also helps to remove groundwater from other areas in your yard and ensures that the water cannot saturate the soil around your foundation. Our team installs french drains with little to no evidence of our work after it's done.
Yard Grading
Yard grading refers to how the ground slopes in your yard. In most cases, new homes have good yard grading that is designed to keep water away from the foundation. However, over time as the fill soil around your foundation compresses, the grading can actually point toward your foundation causing water buildup and potential basement waterproofing issues. Our team at Ark Foundation Repair & Waterproofing can evaluate the grading in your yard and help resolve any improper grading issues that may be causing water buildup.
Does Yard Drainage Prevent Basement Waterproofing Issues?
Not all basement waterproofing issues can be solved with a proper yard drainage system. However, most basement waterproofing issues are caused by poor grading and bad downspout placement. Our team knows that in some cases, installing a full interior drainage system for basement waterproofing is not always the best choice. Most times, fixing your yard drainage problems can completely prevent basement leaks and other foundation issues such as settlement and bowed foundation walls. Our experts are trained to identify the cause of waterproofing issues and will work with you to provide the best solution to the problem.
Contact Us for Yard Drainage Solutions in Lansing and Central Michigan
If you are looking for a reliable waterproofing company to install a yard drainage system, we can help. We offer professional yard drainage solutions for homeowners in Lansing and the surrounding areas in Central Michigan. Contact our experts today by calling 800-344-6021 or fill out our online contact form to have our waterproofing experts contact you to schedule an appointment.