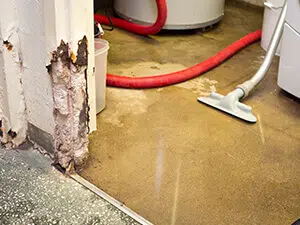 If your home has a basement, that means there is a portion of your home that is below the ground. When you have walls that are against dirt, sometimes water comes through that dirt and causes something called hydrostatic pressure. If this pressure gets too high, it can cause the water in the soil to penetrate your walls. Ark Foundation Repair specializes in providing services and systems designed to combat this issue. If water is coming in, we can make use of a waterproofing system to collect and divert this water so it is removed from your home quickly and safely. We use products that have been time tested in existing basements are work well.
We provide basement waterproofing services in the following cities: Lansing, Battle Creek, Jackson, St. Johns, Coldwater, Adrian, Monroe, Brighton, Portland, Charlotte, Mason, Marshall, Clarklake, Dundee, Milan, Whitmore Lake, Howell, and in other nearby Michigan communities.
If you have any questions about our products or would like to set up a free estimate for repairs or waterproofing, fill out our contact form today.
I am so impressed with this company both Mark Foldenauer and Pat. When I contacted Mark in regards to an inspection on a potential home we were going to buy. Mark stated Romulus was out of their area but he would try to find someone that would be willing to help us out. Mark put
…
us in touch with Pat with Pat who took a long drive to help prevent us from buying a house with many foundation issues and then fit us in a second time to inspect another home. He even gave my husband some advice on how to fix a small issue. Pat was amazing and honest and even though they were just inspecting they gave us great customer service and professional expertise.
Robyn – Romulus, MI 48174
Very happy I made the decision I did by having Mark and his crew take care of my 'forever wet' basement….he explained things for me and answered my questions….they left the basement 100% better than it was before they came here….great job guys!!! Thank You !!! and..gave me a quote and time frame…very pleased…!!!
Jane Z. – Ann Arbor, MI 48104