Professional Bowed Wall Repair In Lansing and Central Michigan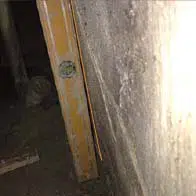 Bowed or leaning basement walls are a sign of excessive lateral pressure on your foundation. If left untreated, they can lead to complete foundation collapse and other basement waterproofing issues. Our team at Ark Foundation Repair & Waterproofing offers professional bowed wall repair for homeowners in Lansing and areas in Central Michigan. Contact our team if you have bowed foundation walls for a free repair estimate.
The soil around your foundation can place enormous pressure on your basement walls. While this pressure is pushing on your walls from the outside, there is no equal pressure pushing from the inside. Over time this can cause your foundation walls to weaken and start to bow inward. This jeopardizes the structural integrity of your foundation and can make your home harder to sell if left untreated.
What Causes Bowed Basement Walls?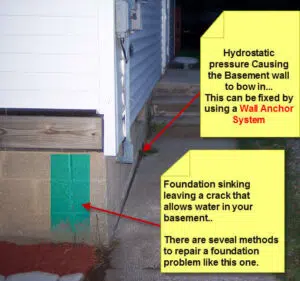 Bowing or leaning basement walls are caused by expansive clay soils and excess hydrostatic pressure on your foundation. Expansive soils push against your foundation walls due to water or frost melt. Hydrostatic pressure refers to the external pressure exerted on your basement walls by excess groundwater buildup in the soil around your foundation. The buildup of excess water and expansion of clay soils exert enormous forces on your foundation.
This water buildup can be caused by ineffective gutters and downspouts. If the roof runoff is not directed away from your foundation, the soil will begin to retain water leading to bowed foundation walls.
Cracks in foundation walls are often the first sign of bowing, buckling, or leaning walls. Because these cracks can allow water to enter your basement, bowing or leaning walls may also require an additional basement waterproofing system. If you have noticed any foundation wall cracks or have bowing or leaning foundation walls, contact our team today by calling 800-344-6021 or clicking the button below to get a free repair estimate.
Very happy I made the decision I did by having Mark and his crew take care of my 'forever wet' basement….he explained things for me and answered my questions….they left the basement 100% better than it was before they came here….great job guys!!! Thank You !!! and..gave me a quote and time frame…very pleased…!!!
Jane Z. – Ann Arbor, MI 48104
Mark, Trace and the crew are wonderful, professional and caring. They waterproofed my basement and did a great job. I now can put carpet in my basement and be confident the basement will be dry.
Kim St. – East Lansing, MI 48823
Our Bowed Wall Repair Solutions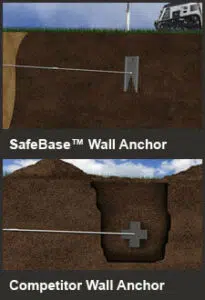 Our team at Ark Foundation Repair & Waterproofing offers several solutions for bowed basement walls. Each solution has its benefits and can be used to repair or prevent further bowing in your foundation walls. In most cases, your foundation walls can be returned to their original position. These include wall anchors, wall plates, steel I-beams, and carbon fiber straps.
The following could be warning signs that could indicate that you have a bowing wall problem at your Michigan home:
Visible wall cracks
Cracks in concrete, brick, or drywall
Bowing walls in basement areas
Visible water damage
Doors or windows that stick or don't open properly
Any of these problems might jeopardize the integrity of the entire structure if not corrected. Get more in-depth information on our bowed wall repair solutions by clicking the button below.
Contact Us for Bowed Wall Repair in Central Michigan
Choosing one wall bracing or wall bracket system over another is based on a number of factors that require a comprehensive inspection and evaluation by a qualified technician. Our team of experts has decades of experience helping home and business owners across Lansing and the surrounding areas solve bowed or leaning basement wall issues.
If you've got foundation wall cracks or bowing, buckling, or leaning basement walls, give us a call today at 800-344-6021 for a free consultation and inspection. We can then determine whether basement wall braces and wall bracing are right for you. If it is, we can design a repair solution engineered to meet your specific needs. You can also fill out the form on our contact page.