Common Crawl Space Problems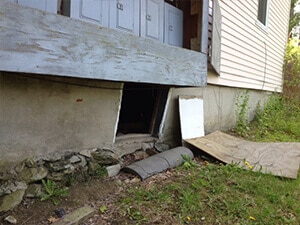 The crawl space is an area below your home that will generally house some of your hvac and plumbing items. This area is usually vented to the outside and was built with a dirt floor. Ark Foundation Repair specializes in sealing this area below your home from the elements and closing it off from the outside. This will help prevent any unnecessary moisture from rotting your wood floor supports away and keep the area dry and clean. If your floors are showing signs of sagging or you notice bad smells in your home, it may be time to contact our professionals. We use products that are proven to work and tested in the field.
Some common crawl space problems include:
High Humidity
Standing Water
Critters
Sagging Floor Joists
We provide crawl space repair services in the following cities: Lansing, Battle Creek, Jackson, St. Johns, Coldwater, Adrian, Monroe, Brighton, Portland, Charlotte, Mason, Marshall, Clarklake, Dundee, Milan, Whitmore Lake, Howell, and in other nearby Michigan communities.
If you have any questions about our products or would like to set up a free estimate for repairs or encapsulation, fill out our contact form today.
Cities We Serve in Michigan
Wow, we are so impressed with this company. I called and they had someone out the next day. Don did a great job with the repairs he made. He was very polite and answered all of our questions. I would definitely recommend this company.
Sections of a cove waterproofing system that was installed 40 years ago had been broken. Mark quickly identified what the system was an gave me a WEB URl where I could order the parts. Really appreciated the help. David Kanistanaux
The corner of my shop was sinking into the ground after it was build just 3 years ago. I talk with Mark about what I could do to correct this problem. He explain a couple of options I had and prices. I was amazed to see the price so much different from the other ones I got. Mark and his crew did it …